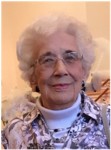 August 24, 1926
-
June 1, 2018
Born in Charlton County, Georgia
Resided in

Salisbury

,

North Carolina
Obituary
Hazel Wildes Mancil, 91, a lifelong resident of southeast Georgia, passed away on Friday, Jun. 1, 2018 at Northeast Medical Center in Concord, NC after a short illness. Mrs. Mancil spent the last 18 months of her life with her son and daughter-in-law in Salisbury, NC.
Mrs. Mancil was born in Folkston, GA. As written by her own hand in 2009: I, Cilla Hazel Wildes, was born August 24, 1926 to Alexander Chesteen Wildes and Gemina Anderson Wildes, the ninth of ten children. The first eight of their children were boys…. The story is that Chesteen was so excited that he and Gemina had a girl after the eight boys that he rode his horse all over the neighborhood telling his neighbors, "We have a girl!"
At a very young age and for the rest of her life, she elected to be called Hazel. Hazel lost her mother when she was 15, then about a year later in 1943, she graduated from Bacon County School as valedictorian. Her father married Ms. Nora Crews Hodges soon after Hazel's high school graduation, and Hazel went on to the Georgia Teacher's College in Statesboro for two years. In her first year of college, she was baptized at First Baptist Church there in Statesboro. At that time, teachers in the area did not necessarily have a college degree and after 2 years of college Miss Wildes began teaching at the Altamaha School while living near Graham with her brother, Leon Wildes, and his family. Hazel met Willis Mancil, whose family farmed nearby, on the school bus while riding to school. Willis and Hazel married on June 14, 1947. They moved to Waycross where Willis worked for the Atlantic Coast Railroad (now CSX) and Hazel continued teaching. She soon completed her Bachelor's degree at Georgia Southern College and later earned a Masters' degree in education. After 30 years of teaching, Mrs. Mancil retired from the Waycross School System.
Since 1948, Hazel had been a member of Calvary Baptist Church in Waycross, where she and Willis were active members. She served by teaching Sunday School classes many, many years (until she was 88 years old), serving as Church Secretary, Principal of the Vacation Bible School, working in the church nursery, providing meals for church members, and in many other ways.
Mrs. Mancil was also very active in professional and civic organizations. She was voted as Waycross' Woman of the Year (1975), a member and officer of Delta Kappa Gamma International Honors Sorority, the American Association of University Women, and the Retired Teacher's Association, to name a few. Hazel once rode a bus to Atlanta with other teachers to march at the State Capital in support of teacher's issues.
Mrs. Mancil is perhaps remembered best by many for her decades-long devotion to the Wildes/Wilds Family of Southeast Georgia Association. For many years, she and her husband played major roles in the annual reunion which is now held at the Okefenokee Swamp Park. Both Hazel and Willis held offices for the family association, organized and promoted the annual reunion (held the second Sunday of October), helped set up the grounds for the hundreds of attendees, and served as a resource of family history. Of particular note, they led efforts to establish the Wildes Massacre Museum at the Park, and 1000 family members and friends attended the annual reunion that October.
After her retirement from teaching, Ms. Mancil immersed herself in family genealogy and in 1984 published a book entitled, Descendants of Maximillian Wildes of Scotland and Georgia, Updated. A voracious reader and skilled writer, Hazel continued to pen stories of her immediate family's history, that of many other family members, of her husband, Willis', family members, and served as a resource right up to the time of her death for information to many others who came behind her to continue working on family genealogy.
Hazel was dedicated to her immediate and extended family as well as her many friends throughout her lifetime, and she is recognized for her devotion to and steadfast support of all. Bolstered by her strong Christian faith, in her later years, despite the sudden loss of Willis after 65 years of marriage and increasing maladies affecting her health, she maintained her intellect and the same positive, supportive and accepting attitude. Her grandchildren and great-grandchildren will always remember the attention and interest she showed them—whether it was talking about what they did that day, what they were doing in school, where they traveled, or what their career aspirations might be.
She was preceded in death by her parents, Alexander Chesteen Wildes and Gemina Anderson Wildes, and her step-mother Nora Crews Hodges, her half-sister (who she never referred to as a "half-sister") Beulah Bessant, her brothers Arnold Bogus Wildes, Milton Zorphus Wildes, Wilbur Liston Wildes, Alton Clyde Wildes, Leon Aleander Wildes, Homer Franklin Wildes, James Donald Wildes and Dolphus Lavell Wildes, her sister Jimmie Lucille Wildes and her loving husband of 65 years, Willis Mancil.
Survivors include her two children: Brenda Mancil deLagarde of Jackson, TN; Dr. Gary Mancil and his wife Ricki (Salisbury, NC); five grandchildren: Chris deLagarde and his wife Mandy (Jackson, TN); Lance deLagarde and his wife Cindy (Gallatin, TN); Dr. Emily Mancil (Greenville, SC); Dr. William Mancil and his wife Dr. Charlotte Mancil (Apex, NC) and Ethan Mancil (Durham, NC); three great grandchildren Colton and Huckson deLagarde (Jackson, TN); Abbey deLagarde (Gallatin, TN) and numerous nieces and nephews.
The Mancil family invites donations on Mrs. Mancil's behalf to: Calvary Baptist Church, 1622 Gibbs St., Waycross, GA 31503; Compassion for Children- Nepal Nigeria, c/o Alma Exchange Bank, PO Drawer 1988, Alma, GA 31510; the American Cancer Society at www.cancer.org; or Georgia Southern University Foundation, Academic Success Center (0133), P.O. Box 8053, Statesboro, GA 30460-8053.
The family will receive friends Friday, June 8, 2018 from 6 to 8 PM at Music Funeral Home, Waycross, GA. Services will be held Saturday, June 9, 2018 at 10 AM at Calvary Baptist Church, Waycross, GA. Burial will be in Greenlawn Cemetery. The members of The Rachel and Leah Class at Calvary Baptist Church are asked to gather at the church at 9:30 AM Saturday to serve as honorary pallbearers.
Sympathy can be expressed by signing the online registry at www.musicfuneralhome.com.
Music Funeral Home is in charge of the arrangements.
To send flowers or a remembrance gift to the family of Hazel Mancil, please visit our Tribute Store.
Services
Visitation
Music Funeral Home
1503 Tebeau St.
Waycross
,
GA
United States
31501
Service
Calvary Baptist Church
1622 Gibbs St.
Waycross
,
GA
US
30501
Burial
Greenlawn Cemetery
5000 Brunswick Hwy.
Waycross
,
GA
US
31503